Our capabilities include measurements on Machine Tools, Robotics & X-Y Stages. We measure and adjust the accuracy on all types of machines, both small and large, from Microscopes, Servo Writers and Silicon Chip and wafer Slicing Machines to Horizontal and Vertical Machine Tools and lathes over 300 feet long. We perform positioning accuracy calibration, adjustments and troubleshooting. We also perform precision level, straightness and square / geometry adjustments.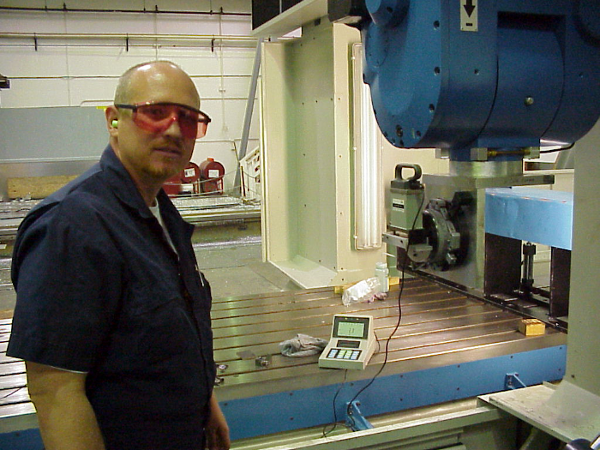 Some of the Machines We Service
Accu-Rite
Allen Bradley
Amada
Amura
Amura-Seiki
Anayak
Anilam
Arborga
Bengal
Berthiez
Betts
Boko
Bostomatic
Bridgeport
Brother
Brotje
Brown & Sharp
Bullard
Campbell
Carlson
Charmilles
Check Master
Cincinnati Gilbert
Cincinnati Machine
Cincinnati Milacron
Clausing
Cordax
Cut King
DAC
DEA
Dayton
DeVlieg
Delta
Deltronic
Droop & Rein
DynaMyte
Dynapath
EZ-Path
Ekstrom Carlson
Electroimpact
Erie
Ewag-Medel
Ex-Cell-O
Fadal
Fagor
Fanuc
Federal
Femco
GE
Gemcor Drivmatic
Giddings & Lewis
Haas
Hardinge
Harig
Hauser
Heathway
Heian
Heidenhain
Hillyer
Hitachi-Seiki
Hurco
Huron
Ikeda
Ikegai
Jomach
Kearney & Trecker
Kira
Kitamura
Kuraki
LK Tool
Lagunmatic
LeBlond Makino
Lehman
Levin
Lucas
Makino
Marwin
Matsuura
Mazak
McBain
Mighty
Mitsubishi
Mitsui-Seiki
Mitutoyo
Monarch
Moore
Mori-Seiki
Nicolas Correa
Numerex
OKK
Okuma
Omni-Mill
Onsrud
Ooya
Portage
Powermill
Pratt & Whitney
RD&D
Reko
SIP
SNK
Schaeffer
Seicos
Seimens
Shibaura
Shoda
Sony
Spaulding
Strippit
Studer
Summit
Thermwood
Toshiba
Tosnoc
Tree
Varnsdorf
Vega
Viper
Wotan
Yasnac
Be more competitive in your industry. See what our laser measuring and calibration techniques can do. We are ready to serve YOU! If you have any questions regarding our services, please feel free to contact us.